Hanoi, Vietnam  (March 16th 2015), MK Smart JSC – a member of MK Group, today announced the new MK Smart is certified by JCB International Co., Ltd. (JCBI), the international operations subsidiary of JCB Co., Ltd., to be the the first JCB card manufacturer in Vietnam.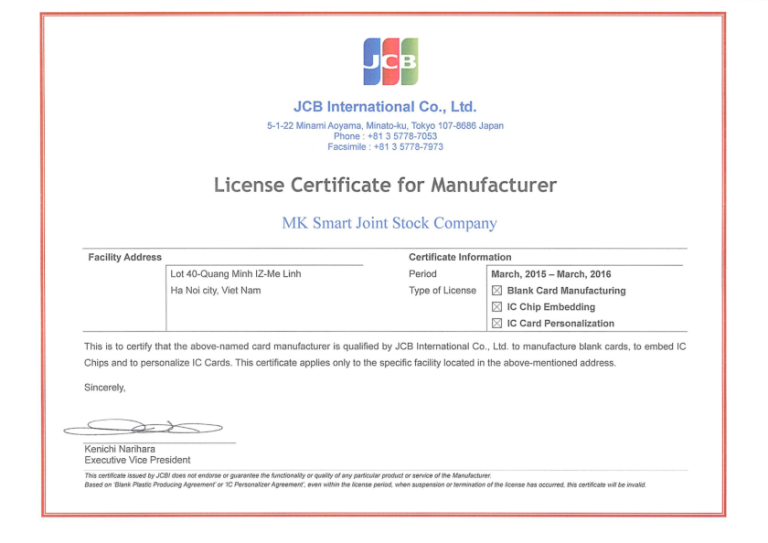 MK Smart is certified by JCBI due to the fact that MK Smart factory completely satisfy the stringent requirements of JCBI for security and information technology infrastructure, two most important requirements for a financial card manufacturer. Currently, MK Smart factory in the industrial zone Quang Minh, Hanoi is equipped with durable physical security system, including the security application with advanced technologies, ensuring risk of information leaking prevention. On the other hand, the factory has closed production process, from the stage of receiving information from client to finished product delivery. This process is closely monitored by qualified technical department with hi-tech infrastructure, ensuring efficiency and absolute security. So far, MK Smart is the only enterprise in Vietnam certified VISA, MasterCard and JCB for card financial manufacturer.
Mr. Nguyen Hai Ha, CEO of MK Smart said, MK Smart's success in earning certification by JCBI has confirmed the leading position of MK Smart in Vietnam card industry, especially in financial and banking sector.
"To be certified by JCBI is a strong proof for the quality and technology of MK Smart's product is fully capable of satisfying the requirements of demanding markets. JCBI certificate allows MK Smart to provide JCB card with competitive price and fast delivery", added Mr.Ha.
             In 2004, revenue from foreign and domestic market increased by 50% compared to 2013 that helped the company continue to maintain market leadership position in the domestic financial card with over 80% market share. In addition, beside the domestic market, MK Smart has expanded into the oversea markets with SIM cards, financial contactless smart cards, and membership cards… for major partners from Japan, Myanmar, Laos, Cambodia, Nepal, Mozambique or Haiti, Peru etc.
For more information, visit: www.mksmart.com.vn
 About JCB
JCB is a major global payment brand and a leading credit card issuer and acquirer in Japan. JCB launched its card business in Japan in 1961 and began expanding worldwide in 1981. Its acceptance network includes about 28 million merchants and over a million cash advance locations in 190 countries and territories. JCB cards are now issued in 17 countries and territories, with more than 88 million card members. As part of its international growth strategy, JCB has formed alliances with more than 350 leading banks and financial institutions globally to increase merchant coverage and card member base. As a comprehensive payment solution provider, JCB commits to providing responsive and high-quality service and products to all customers worldwide.
For more information, visit: www.jcbcorporate.com/english
Note: JCB statistics are as of the end of December 2014.