Credit, debit and prepaid general purpose and private label payment cards in circulation worldwide are projected to reach 31.44 billion by December 31, 2026.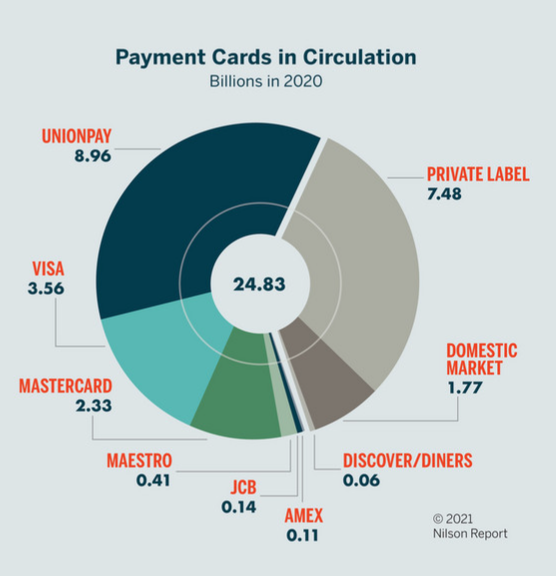 General purpose cards can be used at a variety of merchants. They can have global brands or domestic-market-only brands.
UnionPay, Visa, Mastercard, Maestro, JCB, American Express and Discover/Diners Club are the global brands. They are collectively
expected to reach 19.74 billion cards by the end of 2026.
There are 89 domestic-market-only brands worldwide. Among the largest are RuPay (India); Star, Pulse, Nyce and Accel (U.S.); Elo (Brazil); J-Debit (Japan); Mir (Russia); BC Card (South Korea); Shaparak (Iran); Pagobancomat (Italy); Eftpos (Australia); Cartes Bancaires (France); Verve (Nigeria); and Interac (Canada).
Cards tied to domestic-market-only brandsvare growing faster than global brand cardsvand are projected to reach 2.58 billion worldwide by the end of 2026.
Private label credit, debit and prepaid products are usable only at particular retail stores, fueling stations, airlines and other outlets. The majority of private label cards are prepaid. Collectively, these cards are
projected to reach 9.12 billion worldwide at year-end 2026.
Global brand cards are projected to account for 62.77% of all payment cards in circulation worldwide by 2026. The ranking of the brands based on all payment cards in circulation will not change from 2021. UnionPay cards are expected to hold a 36.35% share, followed by Visa (13.78%), Mastercard (10.28%), Maestro (1.11%), JCB (0.59%), American Express (0.43%) and Discover/Diners Club (0.24%).
Domestic-market-only general purpose cards combined will hold an 8.22% share of the worldwide total by the end of 2026.
Private label cards will account for 29.01% of the worldwide total by the end of 2026.
Source Nilson Report